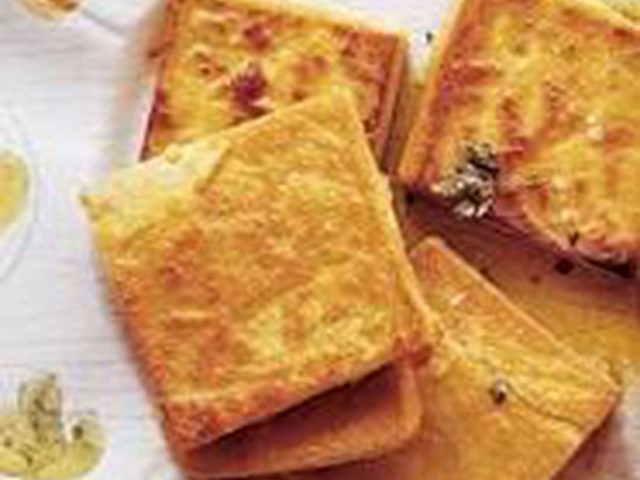 Panelle are very tasty fritters and a very popular street food in Palermo, where they have been created and where you can eat them inside sandwiches called "mafalde", covered with sesame seeds. Nowadays they are prepared almost everywhere in Sicily and they became a simple and important example of Sicilian cuisine.
Ingredients: chickpea flour, water, ground black pepper, salt.
The fritters are thin slices of chickpea dough fried in oil and have a rectangular shape (4 x 8 cm).
 To prepare pour into a non-stick pan 500 g of chickpea flour and add 1.5 litres of water, salt and pepper to taste, cook over medium heat and stir constantly to dissolve the flour in the water for about 30 minutes, careful to avoid lumps. Then pour the contents of the pan into a cylindrical container or wooden mould, letting the dough thicken. After the preparation is cooled down and set, cut into slices about 0.5 cm in order to obtain more or less regular rectangles. The slices are fried at about 180 ° for a few minutes in a pan with vegetable oil. Drain and season.

.