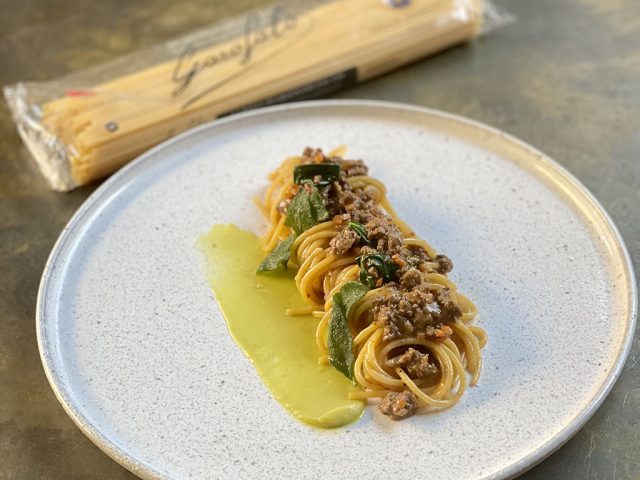 Ingredients for 4 people:
360g Garofalo Spaghetti
320g lamb fillet
1 carrot
1 white onion
1 piece of celery
50g butter
120g Parmesan cheese
100g baby spinach
200g fresh peas
150g vine tomatoes
1 glass white wine
Olive oil
Thyme
Sage
Mint
Salt
Pepper
Method:
For the Pea Purée:
In a pan, add the peas with half a white onion chopped, a touch of oil and salt.
Cover with water and boil for 5 min.
Add the fresh mint and blend until smooth, adding a drizzle of olive oil.
For the Lamb Ragù:
Cut the lamb, carrot, onion and celery into thin, small cubes.
Cook the lamb in a pan with a touch of olive oil.
Add all the diced vegetables to the lamb.
Cook until golden brown creating a nice caramelisation in the pan.
Add the glass of white wine and the herbs.
Remove the seeds from the tomatoes, chop very thinly and add to the pan.
Season with salt and pepper.In salted boiling water cook the spaghetti for about 8 min. Once al dente add to the pan with the lamb ragù.
Now add the baby spinach and cook for few minutes.