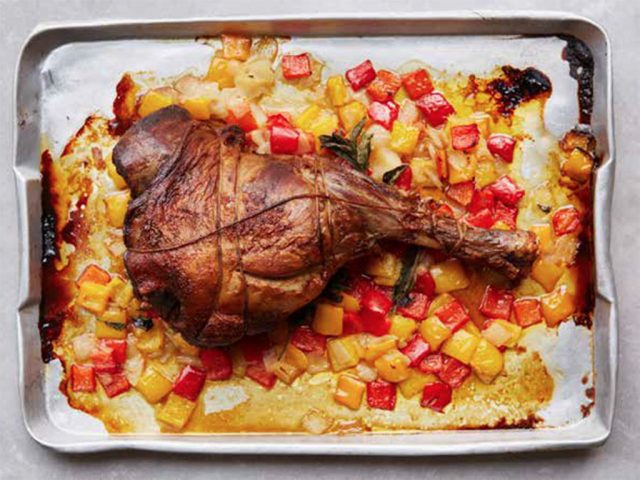 This is a very colourful, spring-like way to roast lamb. Red wine gives a great depth of flavour, but you could use white wine if you prefer, and some extra chopped fresh mint scattered over just before carving really heightens the fresh sweetness of the peppers and the meat. Serve it simply with some roast potatoes.
Serves 6
garlic 3 cloves
fresh mint 1 large bunch, leaves only
leg of lamb 1
olive oil 2 tablespoons
sea salt and freshly ground
black pepper
onions 2 large, chopped
carrot 1, chopped
celery 1 stalk, chopped
fresh rosemary 2 sprigs
red wine 2 glasses (150ml)
chicken stock 2 litres
peppers 4 yellow and 4 red, preferably long Romano, roughly chopped
1 Preheat the oven to 180°C/gas 4. 2 Chop 2 of the garlic cloves finely with half the mint leaves. 3 With a sharp knife make 10–12 deep slits into the lamb, then push a teaspoon of the garlic and mint mixture inside. 4 Heat the olive oil in a roasting tin on the hob, then season the lamb and colour on both sides. 5 Add half the chopped onion along with the carrot, celery, the remaining whole garlic clove and the rosemary and cook until the vegetables begin to colour, taking care not to burn the garlic. 6 Add half the red wine and bubble up to evaporate the alcohol, then transfer the tin to the oven. Allow to cook for 20 minutes, then add the rest of the wine and cook for another 5 minutes. 7 Now add half the stock and then leave in the oven for a further 20 minutes. This will give you medium-cooked meat, depending on the size of the leg, so if necessary, or you prefer the meat more well done, leave it in the oven for a little longer.
8 When the meat is ready, take the roasting tin from the oven, and lift out the meat while you discard the rosemary and the whole clove of garlic, then pour the contents of the roasting tin into a blender. 9 Return the lamb to the tin, add the peppers with the rest of the onion, season, add a ladleful of the remaining stock and put back in the oven for another 10 minutes until the peppers are cooked but still crunchy. 10 Meanwhile, put a few of the remaining mint leaves (around 10) into the blender and blend, adding as much of the rest of the stock as necessary to produce a sauce consistency. 11 Transfer this to a small pan and keep warm on the hob.12 Remove the lamb from the oven and leave to rest for 15 minutes before carving. 13 Lift out the peppers to a warm serving dish and stir in the rest of the mint leaves. 14 Carve the lamb and lay the slices on top. Serve with the sauce on the side.