THIS BROTH IS SOUL FOOD – mamma's equivalent of a chicken soup when you're ill, or something to revive you when you've hit the vino rosso a little too hard the night before… 'Chino' means full and this broth is indeed stuffed.
Packed with protein, released into the broth from the beef bones and eggs, and full of vegetables for added vitamins and sustenance. It's rich, hearty, nurturing and delicious.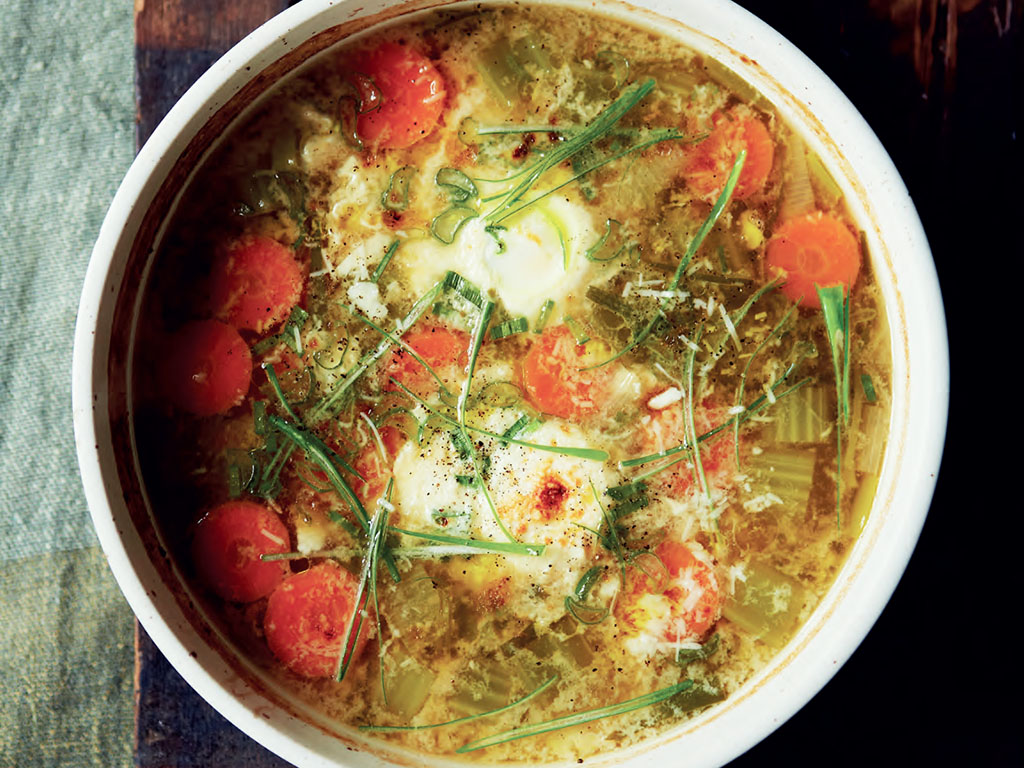 BRODO CHINU
SERVES 4
3 spring onions, trimmed and roughly chopped;
(reserve some of the green part for garnish)
1 celery stick, diced
1 carrot, peeled and cut into rounds
4 eggs
1 tbsp grated pecorino cheese, plus extra to serve
1 tbsp chopped green spring onion
FOR THE BROTH
1kg beef bones
1 large yellow onion, unpeeled and halved
3 carrots, chopped
3 celery sticks, chopped
1 leek, chopped
3 juniper berries
2 bay leaves
1 litre dry white wine
8 litres cold water
Preheat the oven to 220.C /fan 200.C /gas 7.
Put the beef bones into a roasting tin and bake for 30 minutes.
Put all the broth ingredients, including the bones, into a large deep pot, bring to the boil and simmer for 4. hours. Pour the broth through a sieve lined with muslin, let the liquid cool and store in the fridge overnight.
The next day, heat your grill on its highest setting. Scoop the layer of fat off the top of the broth and heat the liquid on the hob.
Add the onion, celery and carrot and cook for 1 – 2 minutes. Drop the eggs into the broth, sprinkle with the pecorino and place the pot under the grill for 2 – 3 minutes (depending on how you like your egg). To serve, sprinkle with more pecorino and green spring onion