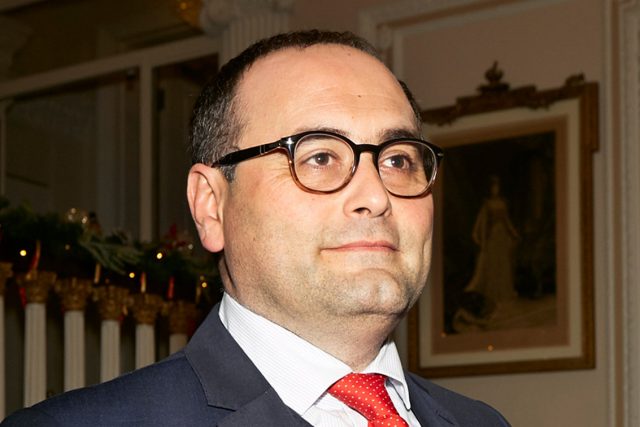 FOR SERVICES TO THE UK BUSINESS COMMUNITY
Maurizio Bragagni, CEO of Tratos Uk, which has production facilities in the UK and Italy and offices in more than 50 countries, has been awarded an OBE "for services to the UK business community". He received this honour – quite rare for an Italian – Just a few days after winning IoD Chartered Director status and joining a select group of the world's best company directors.
When he received news of the award from Her Majesty the Queen, Bragagni admitted he was overwhelmed: "I am humbled and honoured by this incredible recognition: Officer of the British Empire (OBE)!"
Born into an Italian chicken farmer's family his first love was law and he went on to enrol at the University in Pisa to study. Newly qualified with a doctorate in law He changed his plans dramatically when he accepted an offer to work in the family business. He moved to the UK to learn the language and begin a 20-year journey to build the business, continue to educate himself professionally and, most importantly, uphold the family values upon which his company was built.
While taking the cable manufacturing business to growth through global markets, he felt it was important to lead by example. "People", he says, "are important, they are how business is done."
He set up the Tratos Academy to foster talent, promote continuous professional development and nurture colleagues' ambitions. The Academy welcomes international engineering students, from a range of UK and international universities and seeks to inspire and help ignite a stronger spirit of innovation within the profession's next generation. He fell in love with his new life, the family business – and Britain. And he fell in love with learning. Soon an MBA from Bayes (formerly Cass Business School) was added, followed by Chartered Director status precursors – the Institute of Directors' Certificate and Diploma.
On entering a community of fewer than 2,000, who hold the 'Chartered' title, he was joining the world's best business leaders. An honorary doctorate from the University of Bolton and a Senior Honorary Visiting Fellow at Bayes Business School ensured his business insights – from family-held companies to international trade – are shared with tomorrow's business professionals. His commitment to education goes further. He believes access to good quality education is what has the potential to change lives.
Bragagni's family business' mission is 'to create jobs in deprived areas.' Tratos is a long-term supporter of charitable foundation Esharelife, which exists to bring those opportunities for changes and chances, to children and young people in some of Kenya's worst slums – supporting school places and vocational training courses.
A staunch campaigner for higher safety standards in the cabling industry he is focused on delivering more sustainable business. In 2019 he led his business to win a Queen's Award for Enterprise: Innovation, and his company's new sustainability strategy owes much to Tratos' ability to foresee incoming challenges and find greener, cleaner ways to meet them – for the family business and for the companies that look to it to help deliver their own environmental ambitions.
The company is also partnering Spanish standards Aenor to develop the technology to allow companies to measure, and so manage their individual carbon footprints.
   "Today – he says – I have a great deal to thank Britain for. I am the same man, but a changed one, fully at home and fully committed. I have been honoured to contribute to the planning for the incoming challenges of Brexit, working with the Minister for International Trade as an industry advisor. 
La Redazione
For more info: https://tratosgroup.com/about-us/governance/culture/awards/queens-award/ and https://www.bragagni.uk/