In 2013 a young Italian waiter, just weeks after moving to the UK, was murdered by racist thugs in a Kent bedsit above the restaurant he worked in.
This dreadful incident was the trigger for Danilo Cortellini Head Chef at the Italian Embassy in London with the support of the Embassy, to create a safe and supportive environment for enthusiastic and aspiring young chefs from Italy and elsewhere to build their life and professional skills and ultimately find long-term hospitality employment here in the UK.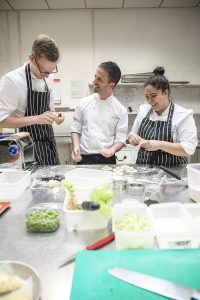 Since the setting up of the project, Danilo has been operating an internship programme, offering free accommodation in the Embassy which saves on travel costs too, professional training, and advice on everything from setting up bank accounts to building a new life in London.
The first person to benefit from First Approach had already arrived in London from Italy, he had a poorly paid position, and was sleeping on a friend's couch. "He was having a tough time, but we gave him a chance, and he flourished," says Danilo. Based on this initial success, nine further interns have passed through Danilo's kitchens over the past five years.
The internships cover, on average, a three-month training period in the kitchen, to a continuous flow of young men and women.
"We can take on one intern at a time, sometimes two if they are here for a shorter period. We offer them rooms and they are properly reimbursed for working in the Embassy kitchen preparing food for the Ambassador and his family, for official Embassy events, and for my own catering company,"
says Cortellini.
"It's a great chance for them. As well as gaining from the professional training we give them, we can help young people avoid the loneliness that can sometimes happen in the move to a big city.
"We know that the hospitality industry can be challenging, and young adults can be taken advantage of, so we offer them counselling and practical tips for dealing with moving to an unfamiliar place, and they get a full immersion into every aspect of my kitchen.
"We're lucky enough to have had some talented young people working with us, some of whom go on to work with us full time, but if we don't have a place for them, we have access to a great network of restaurateurs and chefs across the UK to give them a leg up for future employment."
Danilo took on Jiri "Giorgio" Dvorak under the scheme 2½ years ago. He made such a good impression that the young Czech-born chef was offered a full-time role with Danilo and is now Head Chef for Danilo's catering and events company Tiramisoo.
Giorgio says: "My original motivation for taking up the internship was to find a safe place to live and work for my first few months in London – work was difficult to find in Italy outside main cities and was not well paid, so a move to the UK was something I really wanted." In fact, Danilo was the only person to acknowledge his CV despite his sending it out to dozens of restaurants, which Giorgio greatly appreciates. After his internship, Giorgio returned to Italy for a short time, then came back to take up a job with Danilo as a commis chef when the position became available.
It's an indication of the success of the modestly-scaled scheme that as soon as Danilo posts on social media that he has a new internship spot, he's inundated with quality CVs. "There's a lot of buzz around the opportunities we offer, I'm delighted that there's so much awareness of what we're doing, both in Italy and in the UK."
Danilo keeps in touch with almost all of his past interns: "Most of them have stayed in the industry, and in the UK, including working at some top restaurants like Roux at the Landau, and the Shoreditch House membership club (part of the Soho House group). "It's not all altruistic from my perspective though," says Danilo. "It's hard to find and keep staff in London, so you need to provide more than just a job. This is a great way for us to find and nurture talented chefs." (from "Hospitality and Caterin News"