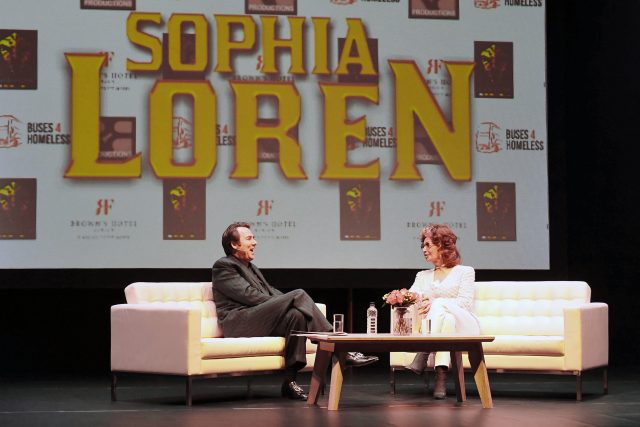 Sophia Loren doesn't have any doubt: poverty – and she knows what she's talking about because of her childhood – can be a great incentive in the search of success. One of Hollywood's last true goddesses of the silver screen, the great Sophia looked back to her personal life and glorious career during "An Intimate Evening" which took place on Sunday 28th October at London's Aldwych Theatre.
The 84-years-old actress was interviewed by one of the Uk kings of the Tv chat shows, Jonathan Ross, and in the second part of this one off event – organized by the producer Rocco Buonvino – there was a a Q & A where fans in the audience had the opportunity to ask her questions. The public found her stunning for her age and in eff ect she did all she could to appear youthful in her cream trouser suit with a black fur stole draped over her shoulders.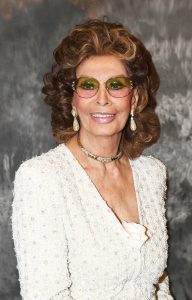 By all means Sophia Loren lived "a life full of drama, intrigue and glamour" as the tabloid "Daily Mail" has written regarding the evening at the Aldwych Theatre. She began her fi lm career in 1951 winning the Best Actress Academy Award in 1961 and an Academy Honorary Award in 1991. She starred in her fi rst Hollywood fi lm in 1957, "The Pride and the Passion", co-starring Cary Grant and Frank Sinatra.
In 1960, Sophia Loren turned in the most acclaimed performance of her career in the fi lm "Two Women" winning her the 1961 Academy Award for Best Lead Actress. She was the fi rst actress ever to win the award for a non- English-language film.
Sophia Loren continued to star in fi lms, cementing her status as one of the great international movie stars of her generation. Her most notable 1960s performances include "Yesterday, Today, and Tomorrow" (1963), which won the Oscar for Best Foreign Film, while she he earned another Oscar nomination for Best Actress in 1964 with "Marriage, Italian style" e in 1967 with "A Countess from Hong Kong, co-starring Marlon Brando. She continues to act and appear frequently in public as one of the fi lm industry's greatest living legends. Some of her more popular and acclaimed later fi lms include Porter, A Countess from Hong Kong, Grumpier Old Men, and Nine.
The producer of the evening, Rocco Buonvino, has staged some of the biggest global entertainment events. From sold-out concerts to musical theatre productions as well as bespoke evenings with music superstars including Dame Shirley Bassey, Sir Cliff Richard, Duran Duran, Sir Rod Stewart, The Chemical Brothers and the late Robin Gibb with his fi rst classical work The Titanic Requiem, live with The Royal Philharmonic Orchestra at Westminster Central Hall.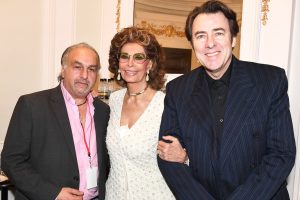 In June 2013 Rocco brought Hollywood icon Al Pacino with his acclaimed An Evening with Pacino to the UK for the very fi rst time for one unique night at the London Palladium. The format worked, and Rocco went on to bring a series of other Hollywood legends including Sylvester Stallone, John Travolta, Arnold Schwarzenegger, Charlie Sheen and Michael Douglas. Sophia Loren is the last of the series, for now. In February 2017 he staged Whoopi Goldberg's fi rst ever Stand Up shows in the UK selling out two performances at the London Palladium with audiences and critics united in their praise.
An avid rock n roller fan, one of Rocco's most memorable nights was presenting the legendary Jerry Lee Lewis's sold out show at the London Palladium. The critics said it was 2015's best show in London's West End.
La Redazine