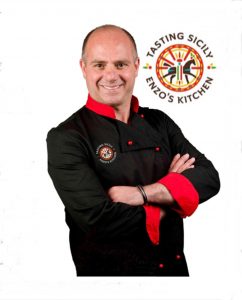 info@thesicilianchef.co.uk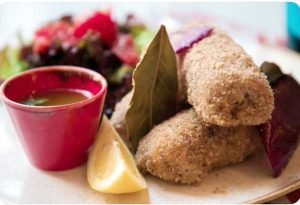 Involtini di pesce spada
Swordfi sh Rolls
As an ingredient, the popularity of the swordfi sh dates back the Greek occupation of Sicily, however the use of citrus fruits, skewers, and the pine nut- raisin combination in this recipe is said to be a symbol of the Arab occupation that lasted three centuries
Ingredients for the Involtini:
3 thin slices of swordfi sh 200g of breadcrumbs 10g of pine nuts 10g of raisins 1 tomato ½ glove of garlic 10g of almonds 1 basil leaf ½ small red onion
1 mint leaf
3 bay leaves 200ml of extra virgin olive oil salt and pepper Ingredients for the Salmoriglio sauce: ½ lemon 50ml of extra virgin olive oil oregano salt and pepper ½ a clove of garlic
Method
1) Blend together the tomato, garlic, olive oil, mint, basil, almonds salt and pepper.
2)In a bowel add breadcrumbs, pine nuts, raisins together with the blended mixture and gently stir.
3) Lay three slices of swordfi sh in an oven dish and place some on the mixture in the middle of each slice of swordfi sh and roll each one, not leaving any gaps.
4) Cut the onion in wedges and with a toothpick, pierce one wedge of onion with 1 bay leaf to the swordfi sh roll. Repeat to all three creating a kebab shape.
5) Coat all three swordfi sh rolls with olive oil and roll in the remaining breadcrumbs.
6) Cook in the oven for 10 minutes and serve it with a salad and salmoriglio sauce.