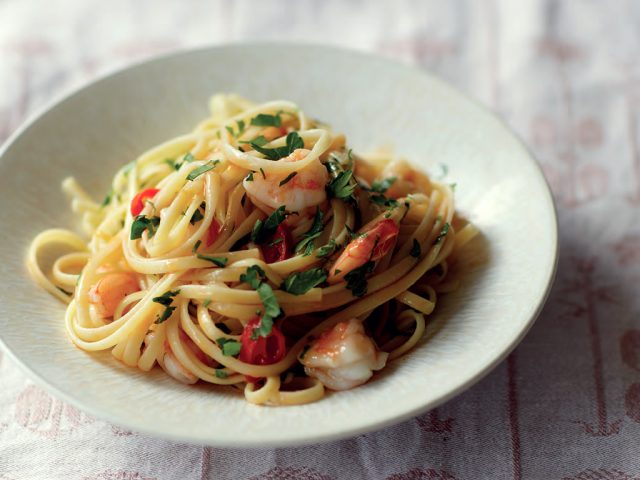 If there were any need to prove to you how simple southern Italian cooking is, this dish is it. To me, it says 'summer on a plate'. Serve it al fresco: stick the pot in the middle of the table and let everyone dive in. A crisp glass of Vermentino rounds off the picture perfectly.
SERVES 4
320g dried linguine
1 garlic clove, thinly sliced
1 red chilli, thinly sliced
3 tbsp extra virgin olive oil
500g raw tiger prawns, peeled and roughly chopped
grated zest of ó lemon
50g flat-leaf parsley, roughly chopped
Bring a pan of salted water to the boil, add the linguine and cook for 3 minutes less than advised on the packet.
Put the garlic and chilli into a saucepan with 2 tablespoons of the olive oil and fry until the garlic is golden brown.
Pour 100ml of water from the linguine pan into the pan of garlic. Drain the linguine, then add it to the pan of garlic and cook the linguine for the final 3 minutes of its cooking time.
When there are just 30 seconds of the cooking time left add the prawns and quickly stir them through, then take the pan off the heat and add the lemon zest, parsley and remaining tablespoon of olive oil until you have a creamy sauce. The heat from the pan will cook the prawns in seconds. Transfer to a heated serving dish and serve immediately.