This is a simple, popular and very tasty recipe for the steaks of swordfish, cooked with tomatoes, onions, olives and capers.
You can find variations of this recipe – considered a glorious example of southern Italian coastal cookery – not only in Sicily but also in Calabria.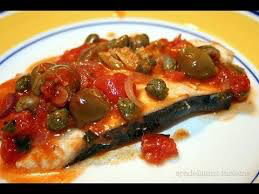 Ingredients for 4 people:
• 4 slices of swordfish weighing 250 grams each
• a red onion (recommend to Tropea)
• 3 stalks celery
• 15 green olives in brine
• a generous handful of capers
• 400 grams of chopped tomatoes into pieces
• extra virgin olive oil to taste
• salt and pepper to taste
Slice the onion and celery, clean and chop the olives, and capers. Put the oil in a pan and add onion and celery.
Let them simmer, stirring often and adding a little warm water if necessary and, when they become translucent add the capers, olives cut into small pieces and the chopped tomatoes.
Add salt and cook for around 15 minutes. Add the slices of swordfish, if necessary adding a little hot water, and cook over medium heat for 15 minutes. Serve immediately.