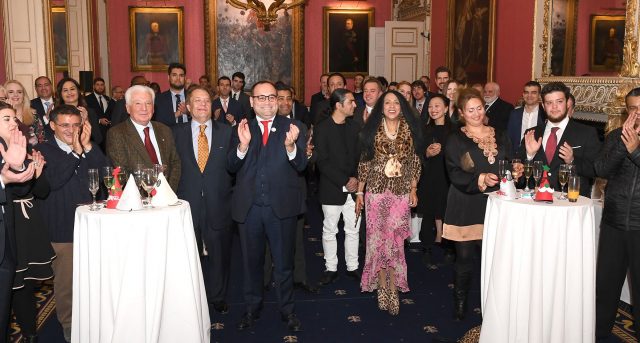 Esharelife gathered friends, supporters and representatives from benefi ciary organizations for its second Christmas Party, hosted by Tratos Ltd CEO and charity founder Maurizio Bragagni, and raised funds for Kenyan education projects.
The glittering event saw special guests from the worlds of politics, business and the arts to gather to celebrate and support Esharelife charities.
Esharelife showcased some of the opportunities and chances created through the provision of school places for children and vocational training for young adults. This is thanks to the work of benefi ciary organisations including one of the charity's founding projects with international charity organization AVSI.
Bragagni, Chief executive of the Uk arm of his family's telecoms cable business, fthanked friends of Esharelife for their continued support for the world's most disadvantaged communities in the UK and worldwide. He went on to explain how providing access to computers and instruction on how to use them was one of the quickest ways to empower people and give them the tools to harness technology and create better chances in life. He went on to stress that the most important foundation for better lives was the education in all its aspects – that and putting the individual at the centre of the thinking and the process. He said that it was important to involve families in the education of their children and teenagers and that any project, even the most well planned, would be doomed to fail if the whole of a child's support system wasn't included.
'We have found that if the benefi ciaries of a project are not involved in the `help' process created around them it won't make a signifi cant change in their lives,' said Bragagni.
The list of guests included former Transport Minister Rt Hon John Hayes; The Albanian Ambassador Qirjako Qirko, Simon Blagden MBE, non-executive Chairman of Fujitsu Telecommunications for Europe, and, by video link, actor George Blagden
The evening featured a highlight auction which saw a pair of paintings donated by artist Deyan Mihov. A bottle of House of Commons Champagne, signed by the Prime Minister, also went under the hammer.
More than 100 invited guests joined the gathering at London's Military In & Out Club to look back at the progress enabled by funds from the charity and hear about ambitions for 2019.
La Redazione