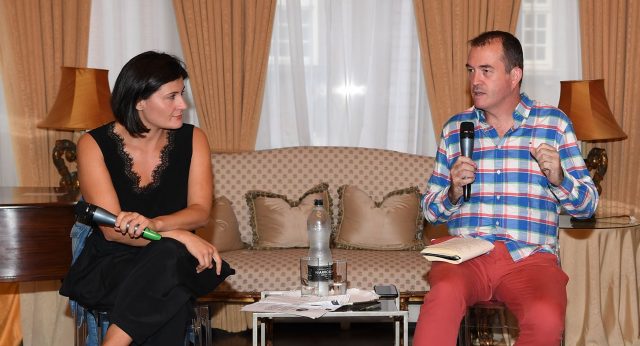 The latest Italian Imaginative Innovators (Triple I) meeting held at the Embassy of Italy featured Gaia Gaja, of the Gaja wineries, who spoke to Jamie Goode, a renowned British food-andwine critic.
The Gaja wineries, established in 1859 in Barbaresco in the Piedmont region, are today an institution in Italian winemaking anda Gaia entered the family business at the age of 23 in 2004, after graduating in Economics from Pavia University and after one year's internship with a wine importer in California. Fifth generation to be involved in the family business, she is considered one of the most powerful women in the world of wine.
During the conversation, which took place the 19th of September, Gaia told Goode that her family's motto was "Do it, know how to do it, know how to get it done, and pass on the know-how". She also shared some of the innovations in the pipeline for Italian winemaking.
Now the Gaya Wineries is not limited to Piedmont: In 1994, they acquired their first wine estate in Tuscany where they produce three Brunello di Montalcino wines and a couple of years later, in 1996, they purchased a second property in Tuscany where they produce wine from new plantings of Merlot, Cabernet Sauvignon, Cabernet Franc, Syrah and Sangiovese. More recently, in 2017, they went south, in a joint venture with Alberto Geraci's Etna estate, investing in the volcanic soils of Mount Etna in Sicily to produce mainly white wines.
In his opening address, Ambassador Raffaele Trombetta observed that Gaja has successfully combined tradition and innovation and is leading the way in Europe and around the world with a project focusing on eco-compatible, sustainable production. Goode, a great supporter of natural wine-production and environmental sustainability, concluded with a question that sums up Italian winemaking: "When do we call a wine 'natural'? Simply when we add nothing to it."
La Redazone