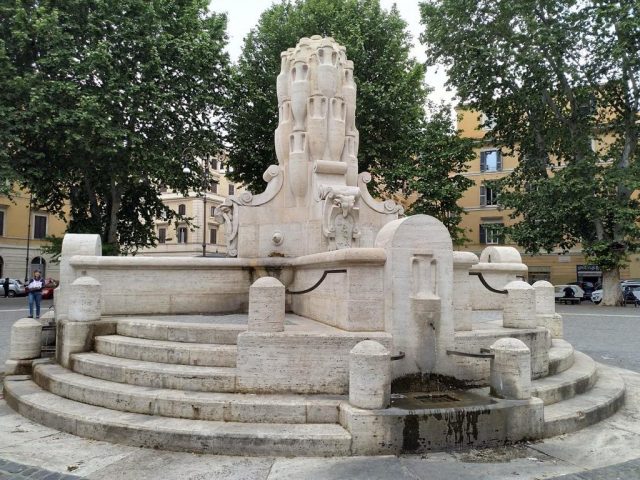 ……….where 'er core' beats stronger!!
When it comes to Rome, there are plenty of touristy destinations that offer an eclectic mix of ancient history, art and flavoursome food. Whether your interests lie in history, culture or food, there is no better way to experience these elements than to head to a new quarter and discover its true character.
Testaccio, one of the Roman Empire's major trade hubs, has evolved to become one of Rome's most important nerve centres of artisan creativity and trading.
Next to Trastevere and within walking distance of the Piramide metro station, Testaccio, the now iconic former working-class neighbourhood, offers a welcome break from the crowds in the tourist areas and a unique blend of dynamism and edginess. Today, Testaccio is a hub for Rome's trendy, quirky sights, unusual history and excellent food scene.
Full of history and home to humble homestyle food elevated to new heights and foodie treasure troves, Testaccio, the original food neighbourhood of the capital, is a confection of wineries, an interesting array of raucous bars, pubs and a collection of discoteche (nightclubs) and home to many theatres such as the Teatro Vittoria.
Few people know that the twentieth Roman district was for decades the wine district – an area that was largely cultivated with vineyards, whilst the indoor caves which were excavated in the Monte de Cocci were used mostly as wine deposits.
The small hill know as Monte dei Cocci – a scenic dump of millions of broken amphorae – terracotta pots used during Roman times to transport food such as sugar, honey, wine and olive oil, subsequently emptied upon their arrival in Rome. This slaughterhouse district was a crucial hub for the distribution of wine throughout the city. Today, good drinking has not disappeared from the streets of Testaccio.
Because this is Italy, food and drink will be central to your experience here. Passionate food creators, gelaterie and trattorie with their distinctive offal-based cuisine and the Mercato Testaccio, all offer a vibrant stop for good authentic food which show how Roman food should be served. Food tours showing how tradition lives on offer a whistle-stop tour of the neighbourhood's warren of eateries which still offer offal (if you're open to trying a local delicacy) reminiscent of Testaccio as the slaughterhouse district of Rome from 1890-1975. Luckily for vegetarians, there's strong pasta tradition too.
The old Testaccio slaughterhouse is now home to the Mattatoio, a contemporary art gallery. Opposite the Mattatoio, on Via Galvani, is the new home of one of Rome's oldest markets, offering a sea of stalls brimming with seasonal vegetables, fruit, cheese, meat and fish, sumptuous food stalls and lots of buzz. The market is a must. A genuine assault on the senses. It's as much about the atmosphere as the traditional food.
Bizarrely, Testaccio is also home to the Piramide di Caio Cestio near Porta San Paolo built in about 18-12BC, the extravagant burial tomb of Caius Cestius a Roman Praetor.
Allow yourself to be transported to an oasis of peace by visiting the protestant cemetery where Keats, Shelley and most recently Andrea Camilleri, author of the Inspector Montalbano books, are laid to rest.
The symbolic Testaccio district, a throwback to a bygone era, is perhaps the last outpost of a Rome that has almost disappeared. A real discovery. A true Rome, where 'er core' beats stronger than the Romans (R. Lucignani. Published in 2009 by Gangemi)
Think you know Rome? Think again.
We stayed for 4 days at Testaccio GlaMMaison, located in the heart of Testaccio, the soul of one of the symbolic neighbourhoods of the capital. A food neighbourhood that brims with crowded restaurants, trattorias with passionate pizza creators and a collection of buzzing nightclubs. Full of locally owned small businesses and treasure troves. Shop like a local and go where the locals shop. Visit one of Rome's oldest markets of Via Galvani overflowing with stalls laden by the scents of fresh produce and street food. The centre of Rome, historic city and capital of Italy, can be reached by public transport or on foot adjacent to the Tiber, whilst taking in the great spectacles of the eternal city's ancient history.
Stylish accommodation offering best price guarantee, Testaccio GlaMMaison can be booked directly with the owner, Stefania +39 335 803 8930, or on airbnb (click here for direct link).
POINTS OF INTEREST and distance from Testaccio GlaMMaison
PIRAMIDE CESTIA V.Raffaele Persichetti – 10min walk via V.Nicola Zabaglia and V.le del Campo Boario
TESTACCIO MERCATO COPERTO Via Aldo Manuzio – 1min walk
PIAZZA TESTACCIO – 3min walk
CIMITERO ACATTOLICO DI ROMA – reachable via V.N.Zabaglia and V.Caio Cestio – 8min walk
MACRO/MATTATOIO P.zza Orazio Giustiniani 4 – 3min walk
TRASTEVERE reachable in less than 10min by bus nr73 or 3NAV from V.Marmorata or 20 min walk
BOCCA DELLA VERITA' – P.zza Bocca della Verità – 16min on foot or 10 min by bus nr.23 or nr.280 from V.Marmorata
PIAZZA VENEZIA – reachable in 15min by bus nr.716 from Via Marmorata or 25min walk
COLOSSEO – reachable by Metro B from Piramide, by bus nr75 from V.Marmorata or with a spectacular walk through Aventino Park, Circo Massimo and alongside the Roman Forum
TripDigest.com