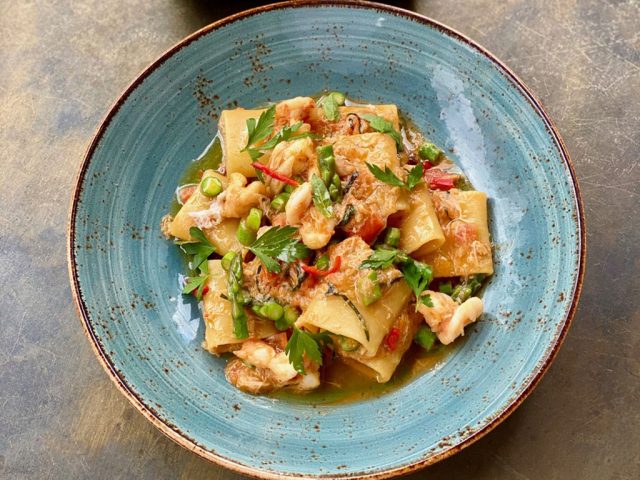 A decadent and refreshing taste of the sea. This dish combines a rich prawn bisque with crunchy asparagus, soft crab meat and perfectly al dente Garofalo Schiaffoni.
Ingredients for 2 people
220g Garofalo Schiaffoni
100g pasteurized crab meat
8 King prawns
10 -12 stalks of asparagus, thinly sliced
150g cherry tomatoes
2 cloves of garlic, finely sliced
Half white onion, roughly chopped
1 sweet chili, finely chopped
Fresh basil and parsley to serve
Salt
Extra virgin olive oil
Method
Remove the heads and shells of the prawns and set aside.
In a medium pot add the prawns shells, heads, onion, half of the garlic, 50g tomatoes and glug of olive oil. Cover the ingredients with cold water and allow to simmer over a low-medium heat until the mixture reduces by half.
Once the mixture has reduced, blend together to form a bisque and strain well through a fine sieve. Set the bisque aside.
In a large pan, gently cook the chili and garlic for a minute or so, then add the prawns and remaining tomatoes.
Next add the sliced asparagus and the prawn bisque to the pan and cook for 3-4 minutes. Add the crab meat to the sauce and remove the pan from the heat.
Add the Schiaffoni to a pan of salted boiling water and cook for 10 minutes.
Once cooked, drain the pasta and add to the sauce pan. Return to the heat and finishing cooking for another 5-6 minutes until the pasta is al dente and fully coated in the creamy sauce.
Stir in a dash of olive oil and serve with some chopped basil and parsley.
Enjoy!