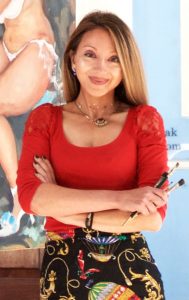 Born and bred in Wiltshire, Anna Mazzotta is a refreshing addition to the art world. Of proud Italian heritage, Anna has an incredible work ethic. She has been nothing short of prolific in her Bristol based studios and is currently planning exhibitions in London, LA and her home town of Swindon. Anna completed a Masters in Fine Art at The Royal College of Art. She also has a 1st Class Honours Degree from Wimbledon School of Art. Her collections include John Hedgecoe (Royal Photographer – postage stamp) Bob & Susan Kasan Summer.
After Graduating from the Royal College of Art, Anna has been working as a fine artist with her major influences being: Theatre, Film and Fashion and using this to highlight the human condition with a focus on expression underpinned by humour, colour and her artists eye. The female artists that inspire her are Leonor Fini and Tamara Lempika. Her work features many strong, powerful and yet vulnerable women, shown in scenes which highlight the human condition, subsumed with humour. Themes and subject matter made ever more important with the backdrop of the current day issues women are still facing.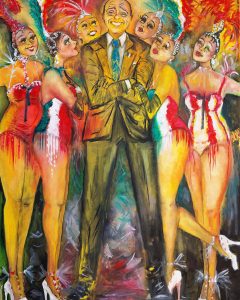 Anna strongly believes humour is the emotion that allows us to truly connect with each other and art. She is recently quoted in stating: "Art provides insights and empathy and connects the viewer with my pictures in their own context, their own experience which then makes the picture their own"
Her painting is a way of seeing the world, thinking – feeling, showing sensations, not just the mechanics of a scene, but instead emphasising energy, life & the letting the character's inner emotion come forward. Anna is passionate about the beauty of caricatures, with just a few strokes of brush or charcoal a picture can be transformed.
All too easily a life drawing can be anatomically perfect yet the picture can totally lack life and spirit. Her work is underscored by a physical interaction with the medium. Her drawing an extension of self for the viewer to also engage with, to make their own. Winning multiple awards along the way (the most notable of which was being one of the youngest winners of the prestigious Jerwood Drawing Prize) Anna appreciates the accolades but they're not her work's driving force. Anna wants to connect with a wider UK audience and use this as a launch pad for an International showcase, exhibitions & engagements Her recent exhibitions include an homage to Diana Dors – a public gallery at Swindon Central Library. This ran from May- June 2018.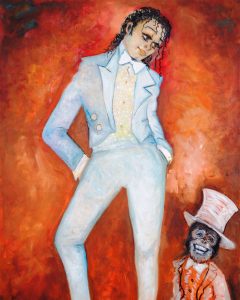 Anna has been asked to be the Artist in residence in association with Network Rail, Heathrow Express/GWR- Paddington Station and plans an exhibition later in 2018.
Recent engagements have included being the artist in residence at the iconic Saunton Sands Hotel, North Devon, The Pelham Hotel, Knightsbridge & London's International Dispute Resolution Centre. Commissions in the past few months alone have included Hollywood superstar Jane Fonda, Campaigner Heather Mills and a sought after portrait of DJ legend Fatboy Slim. This now hangs in his restaurant in Brighton and prints signed by the eminent performer and producer are available on request. For further information take a look at www.annamazzotta.co.uk
La Redazione