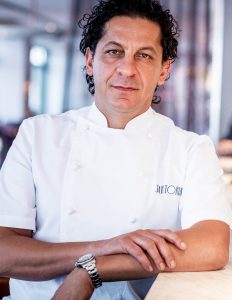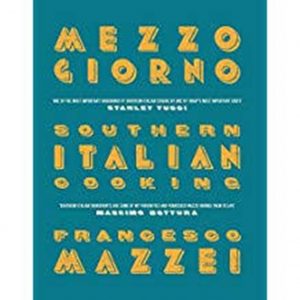 INSALATA DI MARE
SEAFOOD SALAD
THIS IS A CLASSIC ANTIPASTO FOR SPECIAL OCCASIONS. In the South we often serve it as a light starter at weddings. Once you've seen the dish that might seem a bit of a strange choice as it's not really a looker (I've watched diners poke it with some scepticism), but once you dig your fork in and taste the harmonious combination of fl avours I can guarantee you won't look back and you'll understand why we consider it pretty exceptional. If you're serving this to four people it will make quite a large amount, but you can keep any leftovers in the fridge for up to two days and the fl avours will mature (it possibly tastes even better).
SERVES 4
— 6 550ml white wine 1 bay leaf pinch of white peppercorns 2 celery sticks from near the heart, trimmed and sliced 2 carrots, peeled and sliced 160g squid, cleaned and cut into 1cm strips 200g raw Mazara or tiger prawns, peeled and deveined 1 garlic clove, sliced 1 red chilli, deseeded and fi nely chopped 100ml extra virgin olive oil 500g clams, cleaned 500g mussels, cleaned grated zest and juice of ½ lemon 120g cherry tomatoes, halved 100g green olives (I use the Sicilian Castelvetrano variety) 20g fl at-leaf parsley, roughly chopped sea salt and freshly ground black pepper
Put 2 litres of water into a large saucepan with 500ml of the wine, bay leaf, white peppercorns and a pinch of salt and bring to the boil. Add the celery, carrot, squid and prawns and blanch for 1 minute. Drain and set aside. Put the sliced garlic and chilli and 2 tablespoons of the olive oil into a large, deep saucepan over a medium heat. When the garlic is golden, add the clams and mussels and the remaining white wine, immediately cover with a lid and cook on a high heat for about 2 –4 minutes, shaking the pan occasionally, until all the clams and mussels have opened. Discard any clams and mussels that don't open then remove the remainder from their shells over a bowl. Keep the liquid butdiscard the shells. Pour 50ml of the reserved shellfi sh liquid into a deep jug or container, add 60ml of the olive oil, the lemon zest and juice, some salt and pepper and blend using a hand blender until you have a smooth andcreamy dressing. To serve, transfer all the shellfi sh and blanched vegetables to a serving dish with the cherry tomatoes, toss with the dressing, the remaining olive oil and salt and pepper if needed. Finish by scattering over the olives and the parsley.