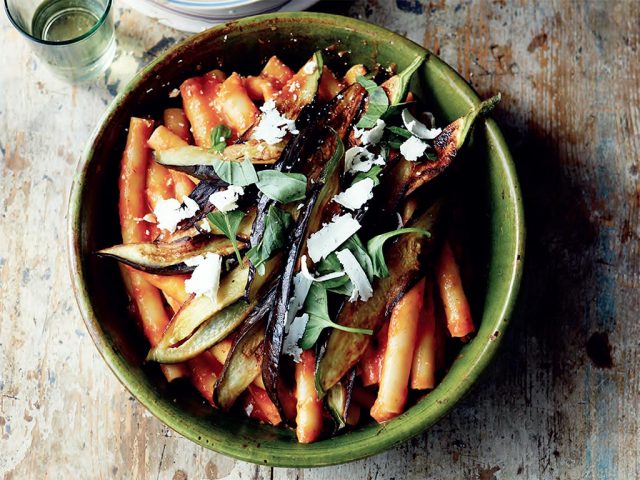 PASTA WITH AUBERGINES AND TOMATOES
ZITI' MEANS 'FIANCÉ' so it's probably no surprise that this type of pasta is one of the main dishes served at weddings. Ziti are long, thin rectangular tubes, and zitoni (or penne candela as they're also called) are their big brother – wider and more versatile as they're big enough to be stuffed, or as the Sicilians do, made into pies or savoury pasta 'cakes'. Pasta alla Norma is one of Sicily's most famous recipes, made with several of the island's sun-soaked riches – aubergine, tomato and basil. Supposedly the dish was named in the nineteenth century, when theatre director and writer Nino Martoglio tasted the sauce and was so impressed by it that he compared it to Vincenzo Bellini's opera masterpiece, Norma. The reasons I return to this dish time and again are simple: my wife is Sicilian and my children love slurping zitoni so it keeps everybody happy. You need to buy dried pasta for this recipe, never fresh.
SERVES 4
2 tbsp olive oil
1 garlic clove, sliced
8 basil leaves, plus a few extra to garnish
10 tinned anchovy fillets, drained
1 tbsp capers
250ml Tomato Sauce (see page 272)
400g zitoni (or candele lunghe snapped in half)
about 500ml sunflower oil
1 aubergine, halved lenghtways,each half cut
into 6 slices
plain flour, to dust
2 tbsp pecorino cheese
2 tbsp aged ricotta shavings
Place the oil in a saucepan over a medium heat and sweat the garlic until golden. Add the basil, anchovies, capers and tomato sauce and heat through, then keep on a low heat.
Cook the zitoni according to the packet instructions, until al dente, then drain, reserving 250ml of the cooking liquid.
While the pasta is cooking, heat the sunflower oil in a deep saucepan or fat fryer until it reaches 185.C. Dust the aubergine slices with flour and fry the aubergines until nice and golden. Remove and drain
on kitchen paper. It is important to coat the aubergines in the flour as this stops the oil getting to the flesh and prevents the aubergines going soggy.
Stir the pasta into the sauce with about a ladleful of the reserved cooking liquid. Mix well, add the pecorino, then divide between warmed serving bowls, top with the fried aubergine slices, then sprinkle over the ricotta and extra basil leaves.