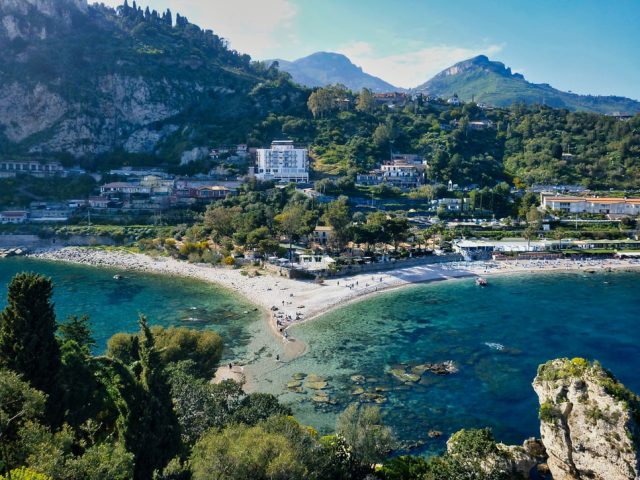 Most locations in Sicily come with a long and complicated narrative, spanned across centuries, and often require a history book to shape our understanding and ultimately our appreciation. Although Isola Bella belongs in the prestigious category of symbolic 'places to see' in Taormina, few if any, know about this tiny islet. It doesn't come with a long historic narrative. It's mysterious but that's part of its appeal.
From an aesthetic point of view, Isola Bella is rough and unabashedly wild. Reaching the island is not like taking a boat out for the day to island hop. You actually reach it by foot via a long, narrow and sandy footpath that has rather remarkably, remained embedded in the sea after all these years. Once you arrive, it feels more like a secluded nature reserve where the overgrown cacti, olive trees, citrus plants, and Mediterranean flower beds make you feel like you've discovered a small Garden of Eden.The island is even home to several species of birdsand lizards. At the top, you can find a house carved completely out of stone with mysterious secret passageways, pockets of cool caves and tiny stairs that even children would need to bend down.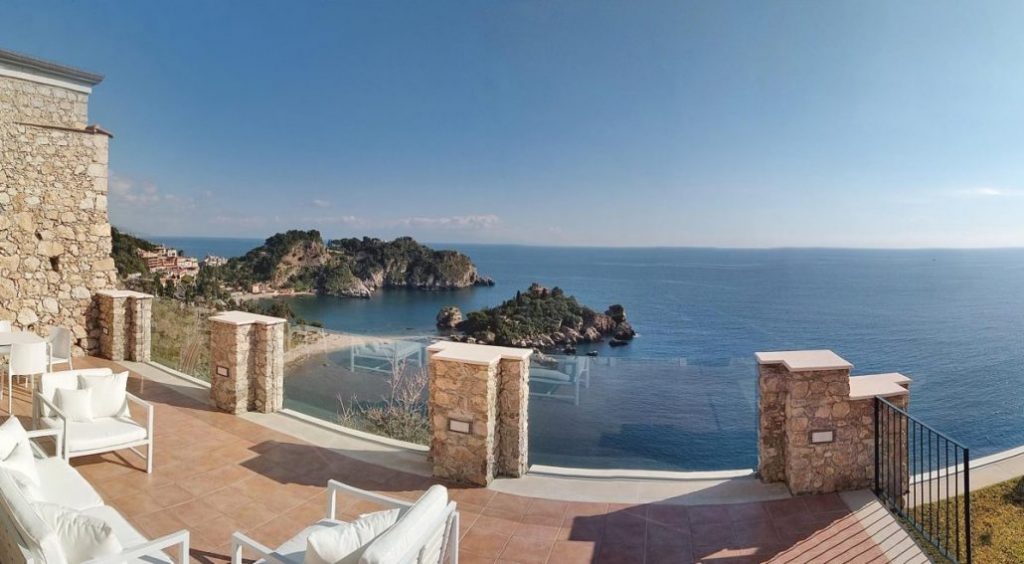 What we do know is that in 1806, the King of Sicily, Ferdinand I of Bourbon, gifted the island to the town of Taormina. In 1890, English noblewoman Florence Trevelyan, cousin of Queen Victoria, purchased the island from the local council for 14,000 lire and it is her that the island is closely associated with. She planted exotic trees and plants which thrived in the Mediterranean heat and commissioned a house where her and her husband Salvatore Cacciola spent most of their days. After they died, it was sold and passed over to several wealthy families and was then completely abandoned until the 1950's when it was bought by the Bosurgi family who restored the island after years of neglect. But the asset was short-lived. In 1984, the family was declared bankrupt, and the island was subsequently abandoned again until 1990 when it was purchased by the Department of Cultural Heritage for around ten billion lire. Isola Bella has since remained public property, been restored to its former glory and you can visit the house by paying a small entrance fee.
Although Isola Bella attracts numerous crowds each year, nothing beats the excitement of exploring in and around the island for the day. It is incredibly rocky, not for those who enjoy the feeling of sand in between their toes. But, if you are keen to skip the crowds, we suggest heading here in late September when the water is still warm, and you'll feel as though you have the island all to yourself.
If you're looking for a place to stay in Taormina, Sparviero Luxury Suites are two wonderful apartments that can be rented separately or in exclusive use as a villa. The incredibly charming owner, Dorotea, is superb. You are well-looked after here and is the kind of place that tends to be re-booked at checkout for the following year. But we have to say that the best thing about this place is the view –the terrace is literally in front of Isola Bella and is probably the only place in Taormina where you can see the island in its entirety. There's nowhere better than here to collapse and enjoy a long lazy lunch on the terrace in the late afternoon heat.
The apartments comfortably sleep two people each (the sofa bed can sleep an additional two people on request). Additional services such as cook, transfers and boat excursions can be arranged.
TripDigest