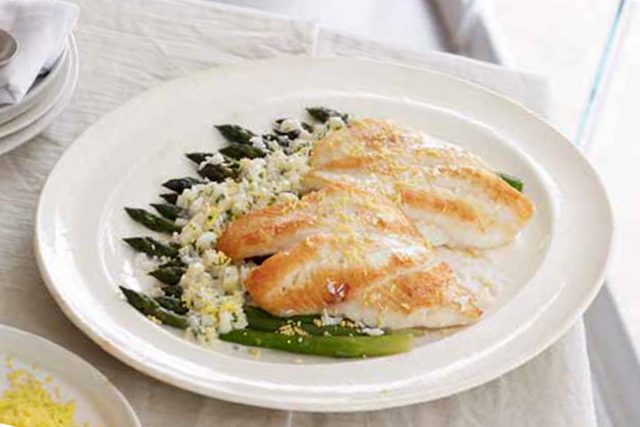 This is quite an elegant dish to make when English asparagus is in season. John Dory was one of the first sea fish that I got to know as a young chef. Our family hotel and restaurant was right on the shore of Lake Comabbio, which was fed by the rivers running down from the mountains, so apart from salt cod, sardines, mackerel and the red prawns which came in each week from San Remo, the only fish I ever saw in thekitchen there, or at home, were freshwater varieties: eel, carp, perch and pike, which have a very different flavour and texture to sea fish.
It was only when I started my first real job at Il Passatorerestaurant in Varese that I got to appreciate the delicate beauty of fish such as John Dory, sea bream and sea bass. Whereas meat cooking can be a muscular, virile thing, preparing and cooking fish in a way that preserves its essential
nature requires a more delicate touch.
Later, during my time cooking in Paris, fish was often served with beurre blanc (the classic reduction of cream, butter, white wine, vinegar and shallot), which was another new idea for an Italian more used to serving it simply grilled, with nothing to distract from its essential flavour, except for a piece of lemon.I think that must have been in the back of my mind the first time I made this, but I also wanted to add some potato, as well as asparagus, which is in season at the same time as John Dory, and finish with the flavours that are so much a part of my identity: parsley and garlic.
Serves 6
potatoes 2 large, skin on
asparagus about 24 thick spears
butter 250g, diced
shallots 3, finely chopped
white wine 35ml
white wine vinegar 1 tablespoon
double cream 35ml
garlic 1 clove
fresh flat-leaf parsley a small bunch
olive oil
John Dory 3 (around 1kg each), filleted
sea salt and freshly ground
black pepper
lemon juice of 1
hard-boiled eggs 2, chopped and pushed through a fine sieve
1 Put the potatoes into salted water, bring to the boil, then turn down to a simmer until just tender, but still quite firm. 2 Drain them, allow to cool, then peel and chop them. 3 Stand the asparagus upright in a pan of boiling salted water – make sure the more delicate tips are clear of the water, so that they steam, rather than boil and become too soft. 4 Cook for about 5–6 minutes, until the spears are just tender, drain and arrange horizontally in a warmed serving dish.
5 Meanwhile, to make the sauce, heat a couple of pieces of thebutter in a pan, add the shallots and cook gently until soft andtranslucent. 6 Add the white wine and bubble up to evaporate the alcohol. 7 Add the vinegar and reduce by half, then add the cream and continue cooking until the sauce has reduced by half again, and is creamy but not too thick. 8 Whisk in the rest of the butter until it has been completely absorbed and the sauce is rich and buttery, then stir in the chopped potatoes and take off the heat.
9 Put the clove of garlic on a chopping board and crush it into a paste with the back of a large knife. 10 Put the parsley on top and chop finely, so that the garlic and parsley combine and release their flavours into each other. Keep to one side.
11 Heat some olive oil in a large sauté pan, put in the John Dory fillets, season with salt and when the underside turns golden, turn them over, season again with salt and cook for 1 minute. 12 Sprinkle in the lemon juice, then lift out the fillets with a fish slice and place on top of the asparagus spears. 13 Add the parsley and garlic to the sauce and spoon over the asparagus. 14 Finish with the hard-boiled eggs