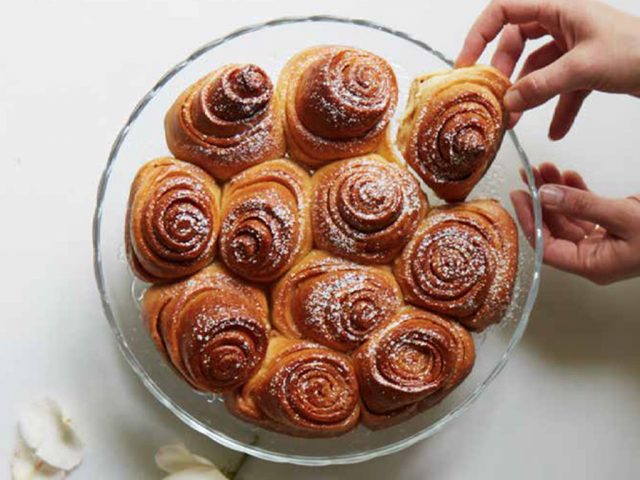 The name of this comes not from the flavour but from its appearance. The yeasty dough is rolled out, spread with vanilla cream, then rolled up and cut into slices which are arranged tightly in circles in a tin, and when baked they puff up and join together, so that they look like a posy of roses.
Makes 1 x 26cm cake
full-fat milk 150g, at room temperature
fresh yeast 25g00 flour 450g
caster sugar 80g
extra virgin olive oil 2 tablespoons
egg yolks 3
fine salt 1 teaspoon
lemon zest of 1
butter, a little, for greasing the tin
For the cream filling:
unsalted butter 150g, at room temperature, diced
caster sugar 150g
vanilla seeds from 1 pod
To finish:
icing sugar, for dusting
1 Grease a deep 26cm cake tin, with a removable base, with a little butter and line with baking paper. 2 In a bowl mix the milk and the yeast until the yeast has dissolved. 3 Mix in the flour, sugar, oil, egg yolks, salt and lemon zest, then knead by hand into a dough. 4 Leave to rest for 30 minutes, covered with a clean tea towel. 5 Lay a sheet of baking paper on your work surface, put the dough on top, and roll it out into a rectangle about 70cm x 40cm. 6 Leave for another 15 minutes, again covered with a clean tea towel. 7 For the filling, cream the butter, sugar and vanilla seeds together until pale and fluffy. 8 Spread over the dough.  9 Lifting the baking paper to help you, roll it up like a Swiss roll, then slice into 11 pieces. 10 Arrange 8 of the slices around the outside of the cake tin, cut side upwards, and place the final 3 in the middle.  11 Leave to rest in the tin, covered with cling film, for 1ó hours, until the 'roses' have risen and joined together.  12 Meanwhile, preheat the oven to 180ÆC/gas 4. 13 Put the tin into the oven for 30 minutes until golden.14 Lift out the cake on to a wire rack and leave to cool, then dust with icing sugar. The cake will break into individual 'roses' for serving.