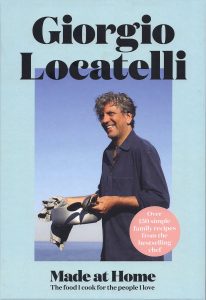 Dal suo ultimo libro "Made At Home"
NASELLO SALSITO
HAKE IN OLIVE
AND CAPER SAUCE
SERVES 4
10 whole green olives in brine 900g hake, fi lleted 2 celery sticks, chopped 1 large onion, fi nely chopped extra virgin olive oil 75g salted capers, rinsed, well drained and chopped 60g tomato purée 2 tablespoons white wine vinegar 2 tablespoons sugar 100ml fi sh stock 1 tablespoon parsley and garlic
Drain the olives and pat dry. With a sharp knife, make three or four cuts in each olive from end to end, then cut each segment away from the stone as carefully as you can.
Put the hake fi llets into a steamer (if you don't have one, put them into a colander over a pan of boiling water and cover with a pan lid). Steam for about 10–12 minutes, depending on the thickness of the fi sh, until fi rm. Meanwhile, bring a little water to the boil in a small pan, add the chopped celery and simmer for a minute or two, just to soften. Remove with a slotted spoon and drain on kitchen paper. Add the onion to the same water, and again, blanch for a few minutes to soften, lift out with a slotted spoon and drain on kitchen paper.
Heat a little extra virgin olive oil in a pan. Add the blanched celery and onion and cook gently until they begin to colour, then add the olives and capers. After a few minutes add the tomato purée, vinegar, sugar and fi sh stock, stir, and bubble up until the liquid reduces and thickens a little. Put the fi sh fi llets on a serving plate, pour the sauce over them and sprinkle some parsley and garlic on top.