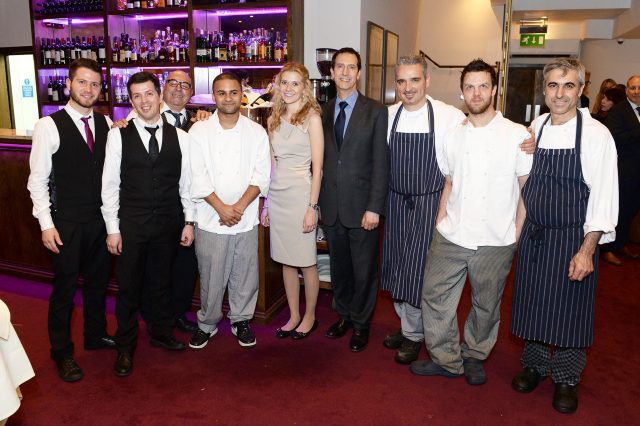 There is a hidden gem in the City, a new place where to enjoy your aperitivo or indulge in a plate of Linguine all'Aragosta. It's Gatti's Italian Restaurant & Bar at Moorgate, in London's EC2. The name Gatti's is thought to pay homage to Mr Luigi Gatti, manager of The Ritz restaurant on board of the Titanic on B Deck, the Italian/French cuisine being so fine that it was reserved for the exclusive use of First Class passengers, and in addition to the already sumptuous First Class dining saloon.
However Gatti's is not the latest fad in Italian cuisine, but a restaurant that has been opened to attain recognition for its timeless elegant décor and its refined, satisfying dishes that are consistently good –something that Mr Gatti would have approved of.
A great location for City dining with al fresco tables in the summer and a larger, lower level restaurant for cosier eating, Gatti's menu is simple yet elegant, offering that style of classic Italian food that we look for when eating out. Expect hearty pastas, including the favourite Spaghetti Alle Vongole or Paglia e Fieno Cipriani, and if you are a meat lover, Filetto di Manzo Scozzese – Scottish beef fillet in a port wine reduction with crispy onion. Gnocchi al parmigiano are also hard to beat.
This summer, there are two new menus to enjoy. The Classic Menu, which offers those best-loved dishes that define Italian cuisine such as Deep Fried Calamari, Scampi & Fried Zucchini or Bresaola with Crostino of Porcini, Parmesan Shavings and Truffle Oil, and Roasted Seabass. And the Contemporary Menu, which shows the way Italian cuisine has evolved without losing its heritage with dishes such as Tempura di Mare, seafood fried tempura-style, Scottata di Tonno – pan-fried tuna steak coated in sesame seeds, with pistachio pesto and Risotto alla Zucca – butternut squash and sage Risotto. Both menus include a glass of Veuve Clicquot Rich champagne.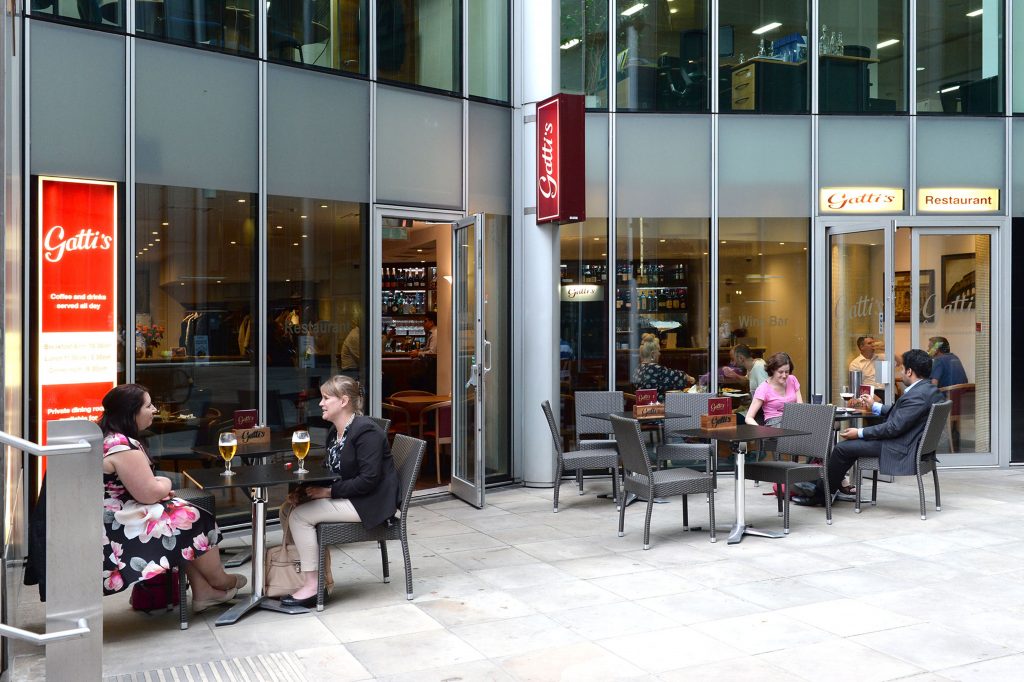 "Historically, Italy – newly appointed head chef Luciano Stoto says – has always had the most skilled, well known and creative cooks in Europe. Through the centuries, they took Italian fine dining to new levels of refinement and prestige, and traditions like the generous use of spices and filled pastas became known all over Europe. At Gatti's we follow that philosophy, using the freshest and best ingredients, cooking them simply but skilfully and elegantly".
If you are in a hurry but still want to eat well, all'Italiana, try the bar, and choose a Tagliere di Verdure or a Tagliere di Affettati or a dish of Arancini or Gamberoni. The bar also serves an excellent breakfast Monday to Friday from 8 to 10.30 am, Monday to Friday, and is open throughout the day for coffee, tea and drinks – an ideal place to meet if you are in the City.
With its retro-chic style, Gatti's is elegant and very comfortable. Styled after some of the best urban restaurants in Italy today, the décor makes extensive use of 'mattone crudo' , which is a feature in its own right, and gives the large room, which sits 130 people, a warm yet uncluttered feeling.
The brick walls create an unusual contrast to other walls covered in bronze mirrors, whilst iconic black and white prints inspired by classic Italian scenes provide an attention-grabbing feature.
Tables are elegantly set, whilst the plush carpets and mood lighting, brighter by day and more subdued by night, give the room a relaxed feel. There is also a private dining room for 10 people.
More info at: www.gattisrestaurant.co.uk
La Redazione